Initiative For Financial Wellbeings Wellbeing Café Lunchtime Webinar 8th September 2020 by Financial Psychology Institute Europe®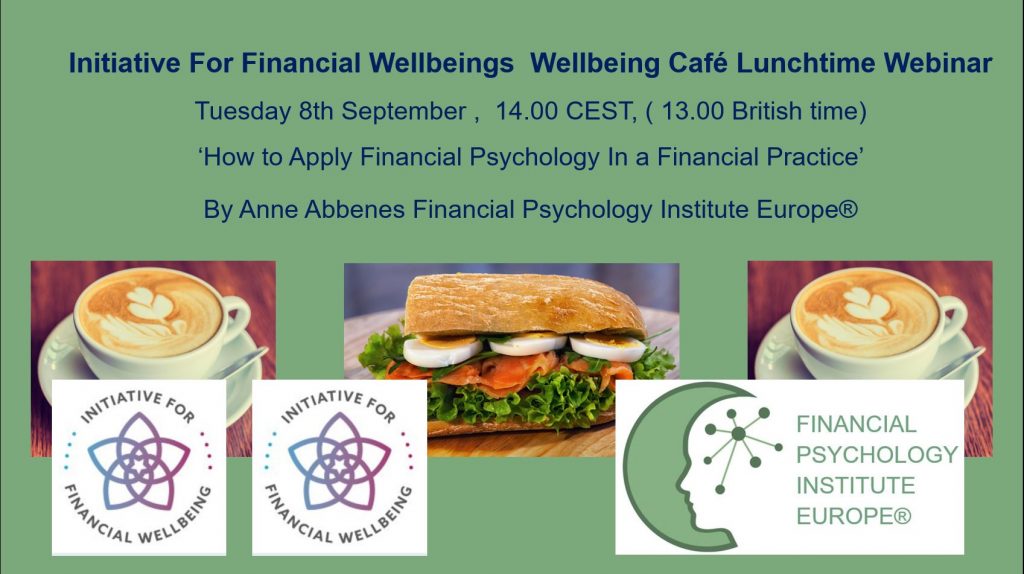 The Initiative for Financial Wellbeings (IFW) Wellbeing Café is a great place to discover what Financial Wellbeing is all about, share your experiences and broaden your network. Their  first event takes place on 8th September 2020 and is being delivered by The Financial Psychology Institute Europe® The Initiative for Financial Wellbeing, ( IFW), is for members of the financial advice, financial planning and financial coaching community who want to improve their client's financial wellbeing by helping them become happier not just wealthier. (if you're not a member then please join them here ).
Bring along a coffee, visit the Wellbeing Café for the  lunchtime webinar on 8th September at 14.00 pm CEST ( 13.00 pm British Time), where the Financial Psychology Institute Europe®, Anne Abbenes will tell you all about 'How to Apply Financial Psychology in a Financial Advice Practice'.  You will learn the following 
Identifying the programming of the brain regarding money & financial decision making
Describe the two perspectives of helping clients build and maintain financial health
Describe inhibitors of client communication
Awareness of what skill is crucial to helping clients and why
Describe an intervention to explore your money memory
Buy your Ticket: https://www.eventbrite.co.uk/e/ifw-wellbeing-cafe-tickets-116075211081
More Financial Psychology Tools & interventions for your Daily Practice ?

 Mail us:: team@fpie.eu..
And join us on Linkedin: https://www.linkedin.com/company/38159041
Visit our English Website: https://financialpsychologyinstitute.eu/home-english/